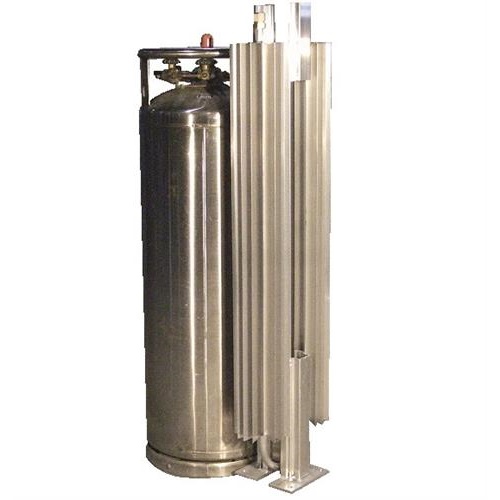 California Residents
Click here
for Proposition 65 Warning
WARNING: This Product can expose you to chemicals including lead which is known to the state of California to cause cancer and birth defects or other reproductive harm.
For more information go to www.p65warnings.ca.gov
AMBIENT AIR VAPORIZER FOR LIQUID CYLINDER APPLICATIONS
Chart's Dura-cyl and Cryo-cyl liquid cylinders come equipped with an internal vaporizer to provide gas for various applications.
But when increased flow rate is needed, use the D8A-3M to economically boost gas withdrawal rates.
Cryogenic Flex Hose and Pressure Relief Valve are available in Installation Kits, P/N 11630809 for Inert service (N2/AR) and
1,200 SCFH rating for N2, O2, Ar (intermittent service)
28 lb/hr rating for CO2 @ 300 psig (intermittent service)
Each unit is cleaned, sealed and tagged for Oxygen service
Compliant with ASME B31.3 and carries CRN for all Canadian Provinces.
Can be used free standing or hung form the cylinder.
Ships fully assembled, tested and ready to use
Adding...
Removing
Processing...
{{productContent.processedProductsCount}} of {{productContent.model.matrixProducts.length}}