Chart Parts Points Program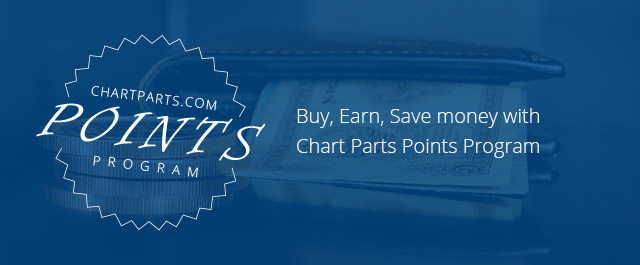 How does the program work?
Order parts and accessories at www.chartparts.com and earn points toward future Chartparts.com purchases. Your points are available to be applied to your next Chartparts.com order.
How many points will I receive?
Points are accrued at a rate of 3% of each purchase. One (1) point is equivalent to one (1) Chartparts.com dollar. Example: Purchase $1000.00 in parts/accessories and receive 30 Parts Points. The points are worth $30.00 and can be applied to your next Chartparts.com purchase or banked for future use. Chart will round all calculations to the nearest dollar. Calculations are made in U.S. Dollars.
How many points can I bank?
The program will allow you to bank up to 2000 Parts Points. You will not continue to accrue points once you reach this limit. However, as long as you use your points and keep them below 2000, there is no limit to the number of points you may earn and spend.
How do I apply the points to my purchase?
If you have points in your Parts Points bank you will be asked at check out if you'd like to apply Parts Points and how many. The dollars will be immediately applied to your online purchase. The invoice will not include the use of points in your purchase.
How long will this program be in effect?
The Parts Points program started on December 1, 2002 and has been an ongoing program for customers who elect to make their parts purchases on our web site. The program may be terminated at any time by Chart, Inc.
If no transaction history has been made in 18 months, then the Chart Points are subject to be voided.
How do I get started?
Simply shop at www.chartparts.com using your log on name and password. If you do not have a log on name and password you will be asked to create an account during the checkout process. Parts Points will automatically accrue when you place your parts order.
What if I can't find the parts I'm looking for online?
Simply send us an email using the Contact Us tab on the web site and we will set up the appropriate part ASAP and email the information back to you for your review.
What can I buy with my Parts Points Dollars?
All products including parts, accessories and gift cards for clothing or other Chart gear can be purchased using earned parts points.